Yellow Helicopters Tours
With spectacular coastlines, hills and glens there is no better way than seeing the Isle of Man from above! Yellow Helicopters have created tours to suit all.
Larger groups and unique requests can be made offline, please contact us if your enquiry doesn't match the online offering.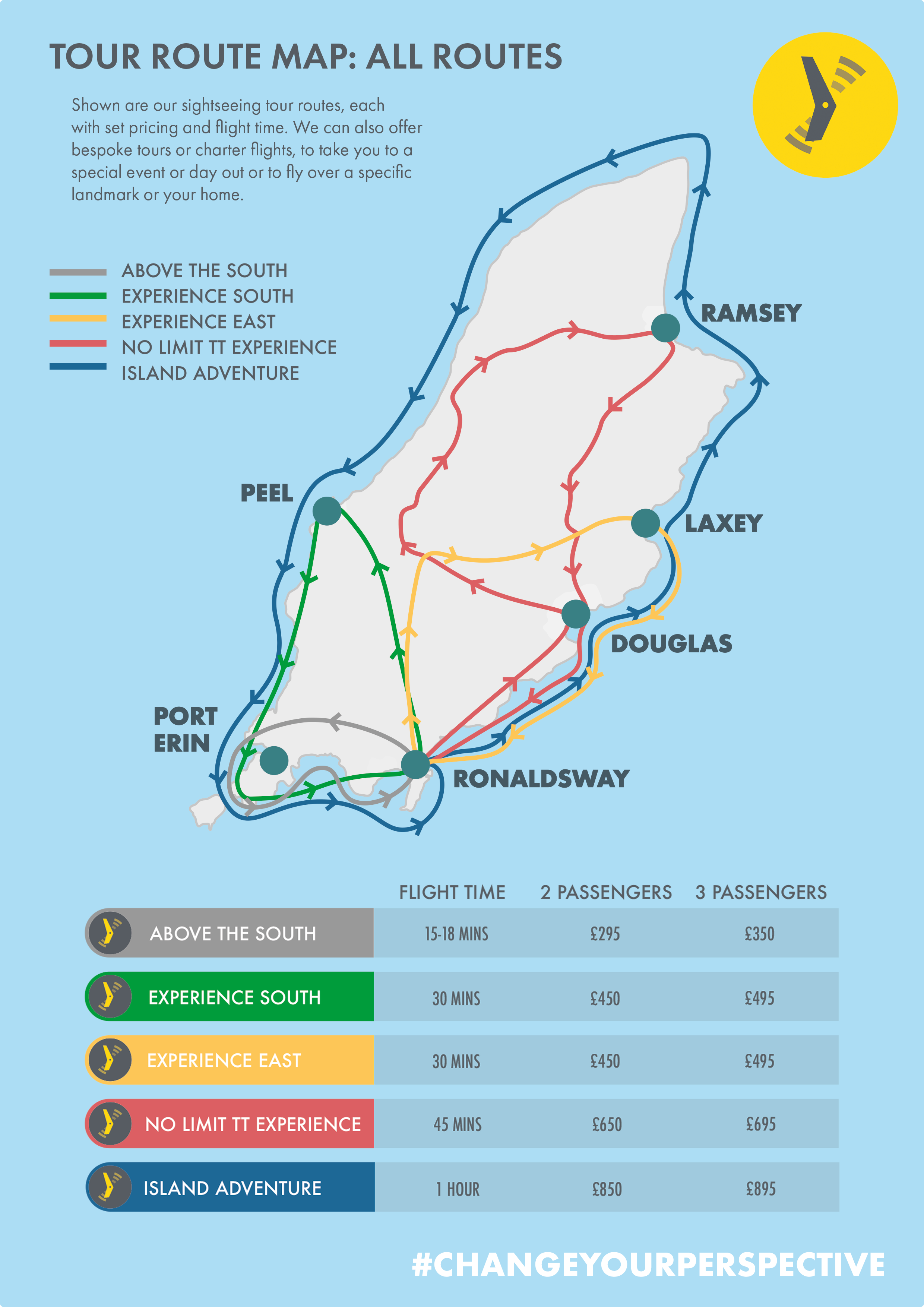 The Helicopter used is a Robinson R44 G-LVIE which is the most popular tour helicopter used across the world and is flown by highly experienced aviators. All tours will start and end at the Jet Centre which is located at Ronaldsway airport.
Book your helicopter tour today with Visit IOM by clicking the Book Now option.
*Full T&C's can be find by expanding the 'other information' below*
Other Information
Booking and Cancellation Policy
. All bookings are subject to acceptance from Yellow Helicopter
Below is our booking and cancellation policy, however we understand that sometimes rescheduling cannot be avoided. Please always talk to us if you need to change the time of your flight booking, or move it to another day. We will always try and find an alternative solution.
Cancellation Terms
· Customers will not be held liable for adverse weather, or unforeseen aircraft maintenance. Your tour will be rebooked, or refunded at no additional charge.
· For all cancellations we require 48 hours' notice, either by phone or email. Cancellations within this period will be charged 50% of the total tour price.
· All transfer requests will be subject to acceptance, and a £25 fee.
· Any cancellation request with less than 12 hours' notice will be subject to full fee being charged.
· Any no-call, or no-show will result in the total tour price being charged.
Rescheduling Policy
· We allow one complimentary reschedule of your tour if you call or email us prior to 48 hours of yourscheduled departure time.
· Any requested reschedule of your tour between 12 and 48 hours prior to your scheduled departuretime will incur a £50 re-scheduling fee.
· Any reschedule request with less than 12 hours' notice will be subject to full fee being charged.
On the Day
Guests must arrive 15 minutes prior to scheduled departure time, you will find directions attached. Late arrivals may result in flight time being cut short, or may be subject to a £100 re-scheduling fee. All flying passengers will need to bring with them Photographic ID (passport / driving licence / national ID card)for Airport Security. And don't forget your phone or camera to take lots of pictures with! Our advice is to wear something comfortable that is appropriate for the season. If you are taking a helicopter tour in the summer, sunglasses are also recommended. During the colder months, or on colder days it is wise to dress in layers. Footwear, again something comfortable - we recommend no stilettos or flip-flops