THE ISLAND'S BIGGEST BUSINESS AND NETWORKING EVENT; ACTION-PACKED DAY, FREE-TO-ATTEND; TRAVEL AND ACCOMMODATION AT DISCOUNTED PRICES
ISLEXPO 2018 is set to explore the Isle of Man as a unique location for start-ups and businesses of all size to call home. The conference will take place at the Villa Marina, Douglas on 16 May 2018 with a ticketed Founders' Feast kicking things off the night before.
"Not your average business event", ISLEXPO is a unique conference come festival that celebrates the Isle of Man as an attractive place to live and work. It's here that the who's-who of the Island's business community, Government agencies investors and budding entrepreneurs gather to connect, learn, share perspectives and inspire economic growth. Expect first-class speakers, interactive panels and workshops, VIP networking, fireside chats, live music, artisan food and drink and a few fun surprises – not to mention locally-roasted coffee for all delegates!
Details
Part conference, part motivational gathering, part networking social - ISLEXPO is a unique event that celebrates the dynamic entrepreneurial spirit of the Isle of Man. It is a free business festival that inspires innovation and encourages real-time connectivity.
ISLEXPO is in its third year and has grown exponentially from the start. Anyone interested in starting, growing or locating a business in the Isle of Man is welcome to attend, as well as those curious to see the speakers featured in the event's world-class programme.
The event is hosted by the Department for Enterprise and organised by Revel. Delegates can expect an action-packed day of incredible speakers, practical workshops, thought-provoking panels, hospitality and networking galore. Hot topics to explore include: the Isle of Man Government's support and funding schemes, future proofing the workplace, work life balance, creative marketing, ethical business and much more. View the ISLEXPO 2018 programme.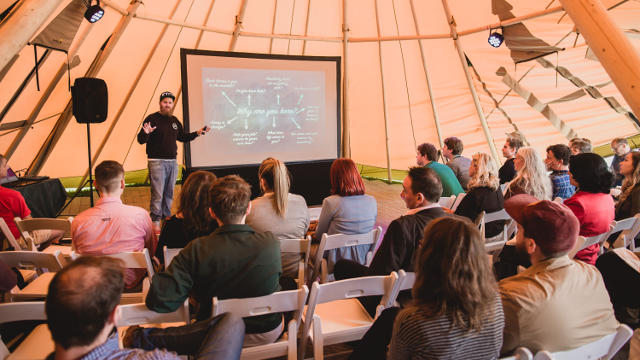 ISLEXPO's lively post 5pm programme will take place in the gardens and feature live music from talented local musicians, artisan food and drink from foodie entrepreneurs and craft brewers, pop-up talks, networking and more.
ISLEXPO is free to attend and registration is simple. Visit the ISLEXPO website to register for free and be a part of this awesome event on Wednesday16 May 2018.
What's Included
Return travel by sea or air
Accommodation of your choice