MMRC Manx Classic Cars Sprint and Hillclimb 2022
The three-day Manx Classic is a must for petrol-heads and classic car fans alike, and is a popular fixture on the Island's calendar. It also attracts entries from budding racers from around the UK, and so booking your travel and accommodation early is recommended.
Organised by the Manx Motor Racing Club, the event covers one sprint and two hillclimbs on some of the most challenging closed roads in the Isle of Man, including on parts of the world-famous TT course. With vintage cars from yesteryear – some dating as far back as the 1920s – classics and modern turbo-charged machines in action, drama is guaranteed!
Full event terms and conditions, regulations, entry forms and fees can be found on the Manx Motor Racing Club's website.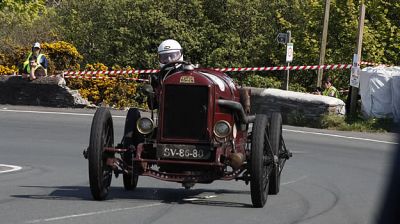 Details
The Manx Classic takes place over three days, as follows:
Thursday 28 April 2022 (The Sloc Hillclimb, Port Erin – 12pm to 3pm, 6pm to 9.30pm)
Starting in the South of the Island competitors have the challenge of completing the famously steep Sloc. Stage 1 is a great viewing stage for spectators as they can see 75% of the course from the start line.
Stage length - 1.06 miles
Friday 29 April 2022 (The Creg Willey's Hillclimb, Glen Helen – 9.15am to 4.30pm)
Running through Glen Helen in the West of the Island, up Creg Willey's Hill and past Sarah's Cottage onto Lambfell, and ending on the Cronk-y-Voddy Straight.
Stage Length - 1.39 miles
Saturday 30 April 2022 (The Lhergy Frissell Hillclimb, Ramsey – 9.15am to 5pm)
Finishing in the North of the Island and travelling through three of the TT course's most iconic points, the Ramsey Hairpin, Waterworks and the Gooseneck, this is the longest Hillclimb in Great Britain today – according to the organisers!
Stage Length - 1.48 miles
NB Event dates and times may be amended according to the organisers' discretion.
What's Included
Return air or sea travel to the Isle of Man
Accommodation of your choice
Spectators can watch for free
NB Entry fees for the Manx Classic 2022 are not included with this offer. Entry forms and event regulations can be found here.
Other Information
Important Information - you must read this before booking
The lead-in price quoted for this offer is per person based on two adult and a car sailing from Heysham, sharing a double or twin room at the 3-Star Sefton Express Hotel in Ballasalla for 4 nights, and was correct as at 15th Nov 2021.
This holiday is operated by Visit IOM. When making a booking you are accepting our Terms & Conditions of business.
There are additional special terms which apply to this holiday. By making a booking, you agree that you accept all of these terms:
Full payment for your travel arrangements is required at the time of booking. Once booked, the travel costs are entirely non-refundable.
If you need to make any changes to your travel arrangements, please contact us and we will do our best to assist. However in many cases changes may not be permitted, and any changes which can be made are likely to incur extra costs.
The cost of this break does not include travel insurance, however comprehensive travel insurance is essential. If you need to arrange travel insurance please contact us.
This break does not include entry fees for any of the races, nor admission to any of the associated entertainment or events. For further information on this please see the event's own website.
The Isle of Man Steam Packet Company will carry one bicycle per foot passenger at no additional cost.
If you intend to travel with a motor vehicle, please note that the maximum vehicle dimensions are as follows: Cars 1.8 metres high x 5 metres long; Motorhomes 3.4 metres high x 6 metres long. A maximum vehicle weight of 4 tonnes applies. For vehicles above these limits, please call us on 01624 654654 for further guidance.
If you intend to travel with sporting equipment of any kind, please call us on 01624 654654 before making a booking, so that we can check with the relevant carrier whether space is available and whether any additional costs would apply.
Can't find what you're looking for? If you wish to travel from a port not featured under this offer, or are travelling with children, please call us on 01624 654654.