Manx Two Day Trial 2024
The Manx Two Day Trial takes place on the 13th and 14th July 2024. A fantastic weekend of off-road action catering for all riders whether you are a world champion or occassional club rider.
The Manx Two Day Trial is a very popular and well-loved national motorcycle trials event catering for solo and sidecar competitors, which will celebrate its 68th anniversary in 2024. A great combination of a fantastic route, amazing scenery and plenty of opportunities on the social side of things, the 'Manx' is an event not to be missed.
The trial regularly attracts over 200 competitors, the majority of whom travel to the Island from all corners of Britian and Ireland, and further afield. For many, it's the highlight of their season and they look forward to the event all year round.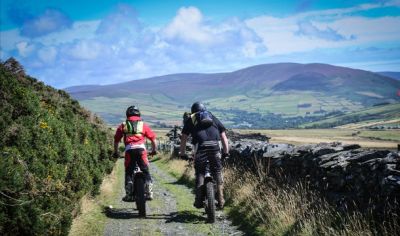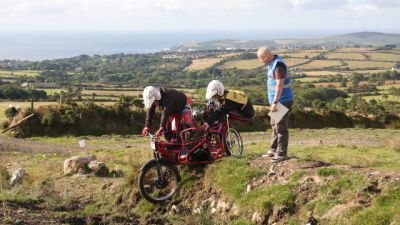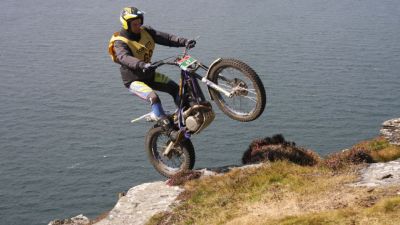 Details
The weekend commences with the signing on for riders and officials during the evening of Friday 12th July 2024, a perfect opportunity to catch up with old friends and acquaintances over a drink to chat about previous events or what's to come over the weekend.
The real action then gets underway early on Saturday morning with the first rider away at 8 a.m. The start is located at Onchan Community Centre and has plenty of parking and facilities for any spectators heading out early.
The solo competitors then head out on a route covering around 45 -50 miles around the southern half of the Island, covering around 40 observed sections spread around lots of fantastic, spectator friendly venues. The sidecars head to the northern half of the Island covering a route of similar length again with about 40 sections for the crews to negotiate.
The action continues on Saturday, again from 8 a.m. with the solo competitors heading north and the sidecars in a more southerly direction on routes of a similar length to the previous day. Lots more remote and beautiful scenery and plenty of easily accessible places for spectators to get close to the action.
The weekend is rounded off with a prize presentation evening. All finishers get the opportunity to take to the stage and collect a coveted finishers award, and stay on to see the winners crowned. Another great social night, where stories from the weekend are told, friendships are cemented and plans put in place for attending next year.
What's Included
Return sea or air travel from your choice of port to the Isle of Man
Accommodation of your choice
Registration for the event can be made via manx2daytrial@hotmail.com
Other Information
Important Information - you must read this before booking
The lead-in price quoted for this offer is per person based on two adults travelling with a motorcycle from Liverpool, sharing a standard double or twin room at the 3-Star Edelweiss Hotel in Douglas for 3 nights. The price was correct as at 10th November 2023.
This package is operated by Visit IOM.  When making a booking you are accepting our Terms & Conditions of business.
There are additional special terms which apply to this holiday.  By making a booking, you agree that you accept all of these terms:
Full payment for your travel arrangements is required at the time of booking.  Once booked, the travel costs are entirely non-refundable.
If you need to make any changes to your travel arrangements, please contact us and we will do our best to assist.  However in many cases changes may not be permitted, and any changes which can be made are likely to incur extra costs.
If you intend to travel with a motor vehicle, please note that the maximum vehicle dimensions are as follows: Cars 1.8 metres high x 5 metres long; Motorhomes 3.4 metres high x 6 metres long.  A maximum vehicle weight of 4 tonnes applies.  For vehicles above these limits, please call us on 01624 654654 for further guidance.
Travel insurance is not included, but we strongly advise you to take comprehensive travel insurance to cover any unforeseen eventualities such as cancellation or weather-related delays.  If you need to arrange travel insurance please contact us.
Can't find what you're looking for?  If you wish to travel from a port not featured under this offer, please call us on 01624 654654.